Press play to watch the Charter Day Ceremony!
Press play to watch the Charter Day Luncheon!
Victoria University in the University of Toronto was founded as the Upper Canada Academy in Cobourg, Ontario. In 1836 Victoria received the Royal Charter from King William IV. The school opened on October 12, 1836, and became Victoria University officially in 1884 when it federated with Albert College in Belleville, Ontario. The University subsequently federated with the University of Toronto in 1890.
Charter Day Ceremonies
Each October, Victoria marks its founding as a University. Since its inception, its remarkable students have been duly celebrated as part of the University's Charter Day festivities.
On October 6, 2021, we will celebrate Victoria's founding and its remarkable community of students, faculty, staff, alumni and friends. Charter Day is also the occasion when the University thanks the many donors who have supported Victoria's awards program since its inception, providing many scholarships and bursaries to Victoria College students.
Please join us on October 6th when we commemorate the Victoria University Charter Day with a virtual presentation, including messages of celebration and congratulation from President and Vice-Chancellor, William Robins, Chancellor Nick Saul, Victoria College Principal, Angela Estherhammer, and Registrar, Yvette Ali.
Charter Day 2021 will also feature the presentation of an Honorary Doctorate of Humane Letters, Honoris Causa, to Mr. Blake Goldring, Vic 8T1, and the acknowledgment and celebration of Vic's remarkable award winners for the 2021-22 academic year.
Blake C. Goldring, C.M., M.S.M., CD, LL.D., CFA
Executive Chairman, AGF Management Limited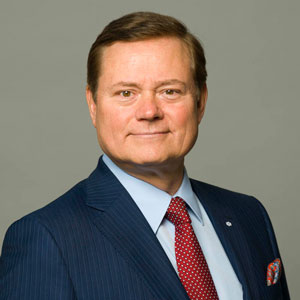 Blake C. Goldring is the Executive Chairman of AGF Management Limited. He first joined AGF in 1987 and held a series of senior positions before being appointed President in 1997, CEO in 2000, and Chairman in 2006. Under his leadership, AGF has grown to be a premier independent asset management company with operations in Canada, the United States, Europe and Asia. Prior to joining AGF, he worked in corporate banking for a major Canadian bank.
Mr. Goldring sits on a number of private company and not-for-profit boards including the CD Howe Institute and the Canadian Film Centre and is the founder of Canada Company: Many Ways to Serve, a charitable, non-partisan organization created to connect business and community leaders with Canada's military.
Blake has received numerous honours in recognition of his personal and professional achievements. Most recently, in December 2018, he was named a Member of the Order of Canada.
He holds an Honours BA in Economics from the University of Toronto, Victoria College, and a Masters of Business Administration from INSEAD in France. He is also a member of the Toronto Society of Financial Analysts, a CFA charterholder and a Fellow of the Institute of Canadian Bankers.
Scholarship and Prize Recipients