Office Phone: -
Office Location: NF302
E-mail: shaun.ross@utoronto.ca
Office Hours and/or Leave Status: By appointment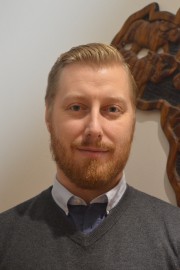 Shaun Ross teaches in the Renaissance Studies Program and the Literature and Critical Theory Program at Victoria College, where he also serves as the undergraduate research coordinator. His research focuses on Renaissance poetry, the cultural history of religion and theology, the reception of Greek and Roman literature, and hermeneutics. He also has a wide range of teaching interests, and has taught classes on Renaissance history, book history, ecocriticism, phenomenology and the novel. He has recently published academic essays in English Literary Renaissance and the George Herbert Journal, and is in the process of completing a book, tentatively titled Eucharistic Poetics from Chaucer to Milton.