You Can Have a Direct Impact on Our Future Leaders by Making an Annual Gift!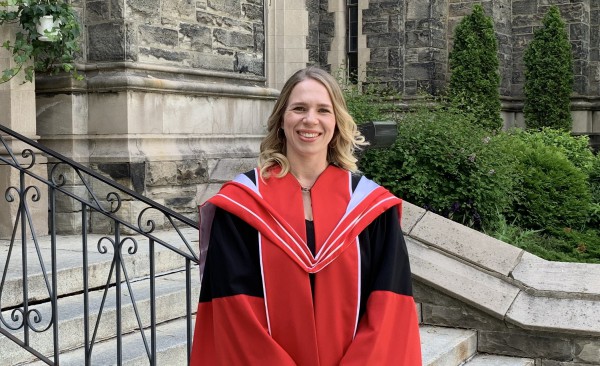 Leaders spark inspiration and foster change. While at Victoria College, you might recall having a role model who inspired you to advocate for causes that are important to you or who gave you the confidence to push your limits.
Julia Forgie Vic 0T5 received such motivation from her mentors at Vic, and now, in turn, leads the way for her students through her work as an assistant professor and program coordinator for Vic's Education and Society program, open to all students in the Faculty of Arts & Science.
Between the range of courses offered in the Education and Society program and Julia's skilled leadership, students are taught to think critically and to work collaboratively—key hallmarks of great leadership. Your generosity helps this important learning happen!
"I feel a great sense of pride in my role at Victoria College. It is a privilege to strive toward positively influencing the academic and professional lives of my students, in the same ways that Vic faculty did for me when I was an undergraduate," says Julia.
You have the power to ensure outstanding faculty like Julia continue their work as educational leaders and have a positive impact on their students' future outcomes and achievements. Please donate to the Victoria College Annual Fund today.
Your gift makes Julia's work possible and supports programs unique to Vic such as Education and Society, Vic One, Scholars-in-Residence and Vic Ready. The strong demand for these programs shows how important they are for students' intellectual, creative, professional and personal growth.
Your gift also supports the growing number of Vic students who qualify for bursary or scholarship support. These awards help to offset student tuition fees as well as the many other costs associated with pursuing a university education.
Please send your gift today to ensure that Vic continues to help future leaders transform what they have learned at university into meaningful, positive contributions to their communities and to the world.
Thank you for your generous support for Victoria College.
Picture attached
Photo credit below
Julia Forgie Vic 0T5, MA, PhD, OCT, RECE
Assistant Professor, Teaching Stream
Program Coordinator, Education and Society
Victoria College