Location: Old Vic Building VC102
In addition to being teachers and scholars, many of Victoria College's faculty are creative writers in their own right. Join us online when our distinguished professors share their recent publications with the community.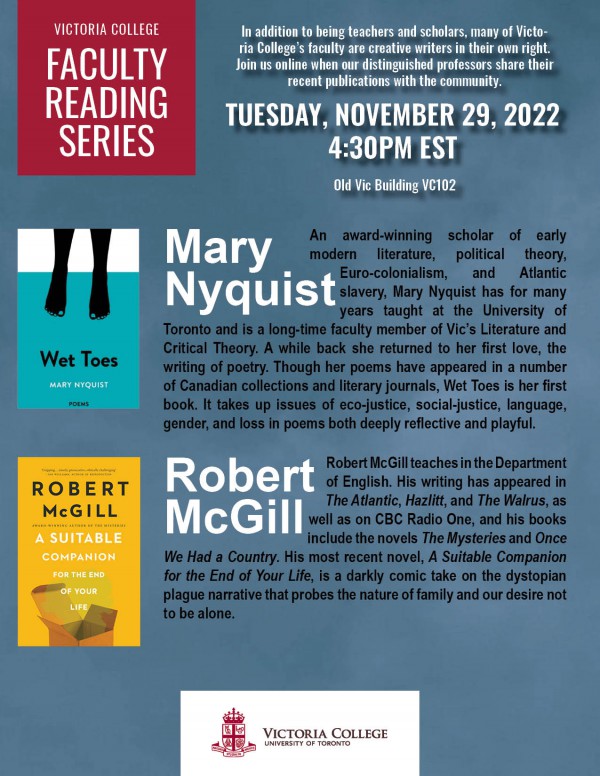 An award-winning scholar of early modern literature, political theory, Euro-colonialism, and Atlantic slavery, Mary Nyquist has for many years taught at the University of Toronto and is a long-time faculty member of Vic's Literature and Critical Theory. A while back she returned to her first love, the writing of poetry. Though her poems have appeared in a number of Canadian collections and literary journals, Wet Toes is her first book. It takes up issues of eco-justice, social-justice, language, gender, and loss in poems both deeply reflective and playful.
Robert McGill teaches in the Department of English. His writing has appeared in The Atlantic, Hazlitt, and The Walrus, as well as on CBC Radio One, and his books include the novels The Mysteries and Once We Had a Country. His most recent novel, A Suitable Companion for the End of Your Life, is a darkly comic take on the dystopian plague narrative that probes the nature of family and our desire not to be alone.
For more information and to register for this event, please email: nfc@utoronto.ca