The Victoria College Community 
We know making a decision about your university career is a tough choice, so we encourage you to connect with us online or join us on campus to learn more about what it means to be a Vic student.
Campus Tours
Join us for an in-person tour of Victoria College! On our tours, led by current Victoria College students, you will learn about campus life, student services and the academic programs offered here at Vic! In-person tours happen on Mondays at 4 p.m. and Thursdays at 11 a.m.
Online Sessions
Weekly online information sessions about Victoria College are held every Friday from 4-5 p.m. EST from Jan. 13 to March 31, 2023. At these sessions, you will learn more about the college system, Vic's admissions process, student life, residence and the Vic One program! RSVP to receive a Zoom link.
Academic and Transition Support!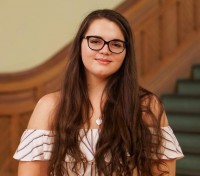 Sarah Clapperton is Vic's Transition In Advisor and Assistant Registrar. She is here to help you transition to life at Vic and U of T. Throughout the summer, Sarah will host drop-in advising sessions, events, one-on-one appointments and more! Be on the lookout for emails from goingtovic@utoronto.ca.
If you want to schedule a one-on-one appointment with Sarah to discuss your transition and academic plan, you can do so here!
Next Steps
Welcome to Vic
Vic One

Consider applying to the award-winning Vic One program for first-year students! With small classes capped at 25 students, Vic One provides discussion-based, seminar-style classes supplementing studies in the humanities, social sciences, and commerce. Click here to learn more and apply or email vic.one@utoronto.ca for more information.
Course Selection and Program Information

New students can access a Quercus page to help them navigate their course selection and ease their transition into university. Quercus is a learning management website and is the University of Toronto's primary online teaching and learning platform. Students who have accepted their U of T offer will receive an email on how to access Quercus in May.

The Faculty of Arts and Science Calendar is a valuable source of information on programs of study, courses, important dates, and the rules/regulations of the Faculty.
Academic Planning

Start Strong at U of T is a summer program providing

orientation events and workshops to help you prepare for life as a university student

Victoria College sees a small class experience as a requirement for an effective transition to the university community and learning. First year Vic students enrol in at least one first year foundation course, found through Vic One, Vic One Hundred, or a First-Year Foundation One course offered by the Faculty of Arts & Science. Academic advisors are available to speak with students who need assistance selecting a small class experience.
Transfer Credits, Please see your Join U of T Portal account for detailed instructions on your expected transfer credits. If you have questions after you have received your transfer credit assessment, connect with the Registrar and Academic Advising Office.
Getting Connected

First-Year Learning Communities: The First-Year Learning Communities

(FLC) Program in the Faculty of Arts and Science is designed to improve the transitional experience for first-year students.

You will develop friendships, form study groups, and develop academic and personal skills.

Victoria College sponsors two FLC groups in the Life Sciences. Open to all first-year students registered in FAS, you can also find FLC groups for Actuarial Science, Computer Science, Economics, Rotman Commerce, Mathematics and Social Science.
There is no cost to participate. Applications for FLC will be available in early June. Space is limited so apply early.
Life at Vic
Open Vic - Saturday June 17, 2023
Open Vic allows us to welcome you to the Vic community. This event will help you understand the academic and co-curricular support available to you and help you develop connections with members of the Registrar's Office, Dean's Office, Principal's Office and other members of the Vic community. Details will be emailed to new students in the spring!